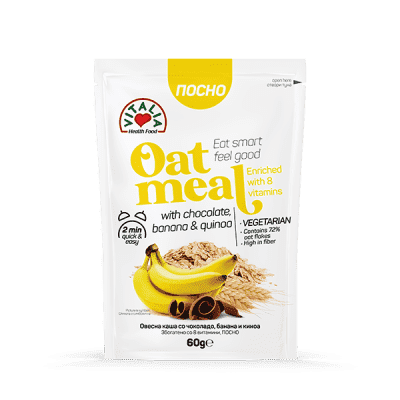 The new irresistible flavor of banana and chocolate in perfect combination with quinoa for healthy morning starts. Oats, as the pioneer of new flavors, are abundant with beta-glucans - plant fibers that ensure healthy digestion. This time towards the health mission, we included quinoa flakes as a source of all essential amino acids needed for proper protein synthesis in our body and enriched them with 8 B vitamins for successful maintenance of metabolic processes.
Delve into the world of oatmeal, a beloved breakfast classic that offers a wealth of nourishment and versatility. Made from rolled or ground oats, oatmeal is renowned for its rich flavor, creamy texture, and exceptional health benefits.

Within the oatmeal product category, you'll find a diverse selection tailored to suit various preferences and dietary needs. Whether you prefer the traditional hearty oats, the convenience of instant options, the enticing flavors of fruit-infused varieties, or the exciting blends of unique ingredients, oatmeal caters to an array of tastes.

Oatmeal stands out as a high-fiber food, making it an ideal choice for promoting optimal digestion and providing a satisfying feeling of fullness that lasts well into the day. Additionally, oatmeal is a treasure trove of essential nutrients, including vitamins, minerals, and antioxidants that contribute to overall well-being.