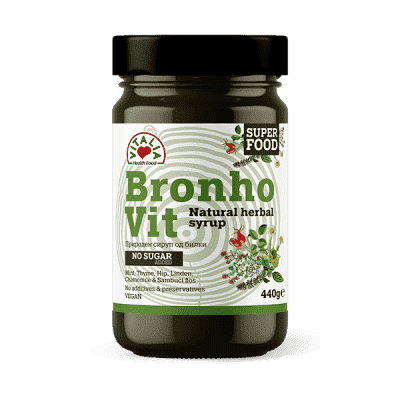 Bronhovit is a 100% natural dietary product prepared from maltex – barley malt, soy lecithin, extracts and etheric oils from herbs, such as: mint, thyme, elder, chamomile, dog rose and basswood.
Indulge your sweet tooth guilt-free with our range of healthy sweeteners. We offer a selection of natural alternatives that provide a satisfying sweetness without compromising your well-being. Discover and buy nutritious sweeteners online to enhance your favorite recipes and beverages with wholesome goodness.

At Vitalia Healthy Food, we believe that enjoying sweetness should go hand in hand with maintaining a balanced lifestyle. That's why we offer a variety of healthy sweeteners derived from natural sources, free from artificial additives and refined sugars. Our sweeteners provide a nourishing and flavorful alternative that can be enjoyed by health-conscious individuals.

Our collection features a range of options, from organic raw honey and pure maple syrup to natural stevia and coconut sugar. Each sweetener boasts its own unique taste profile, allowing you to tailor your sweetness preferences to your liking.