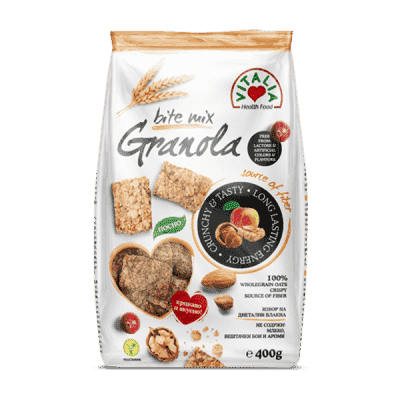 The granola muesli with nuts enriched with magnesium and B complex constitutes an original mixture of oat flakes and nuts (hazelnut, almond, walnut).
Discover a wide selection of healthy snacks that provide a delicious and nourishing option for those seeking a balanced lifestyle. Our collection of nutritious snacks offers a convenient way to satisfy cravings while supporting your well-being. Buy healthy snacks online and indulge guilt-free in the goodness of wholesome ingredients.

At Vitalia Healthy Food, we believe that snacking can be both delicious and beneficial for your body. That's why we offer a range of thoughtfully curated snacks made with high-quality, natural ingredients. Our snacks are packed with essential nutrients, vitamins, and antioxidants to fuel your day and boost your overall health.

From nutrient-rich nuts and seeds to satisfying granola bars and delectable dried fruits, our healthy snacks are designed to provide sustained energy and promote satiety. With a focus on quality and taste, we strive to offer a variety of flavors and textures to suit every palate.