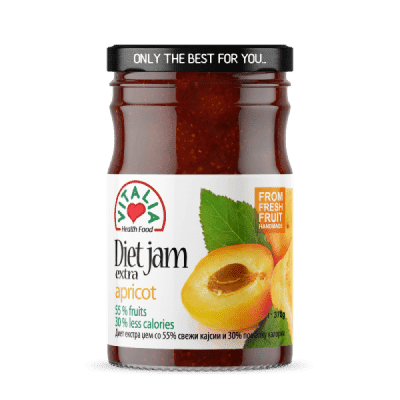 Diet extra apricot jam is produced by a traditional recipe with 55% fresh fruit coming from ecological and clean orchards in Macedonia. The apricot is often said to be "the royal fruit" due to encouraging children's growth, improving eye sight and illness resistance. It is commonly used in cases of anemia.
Transform your meals into culinary masterpieces with our range of healthy spreads and spices. We offer a selection of flavorful condiments made from wholesome ingredients, allowing you to enhance your dishes with delicious taste and nutritional benefits. Buy these nutritious spreads and spices online and elevate your culinary creations to new heights.

At Vitalia Healthy Food, we believe that good food starts with quality ingredients. That's why we meticulously curate a collection of spreads and spices that are crafted with care and offer a balance of taste and health benefits.

Our healthy spreads, including nut butters, seed butters, and plant-based alternatives, are made from natural and nutrient-rich ingredients. They are free from artificial additives, preservatives, and unhealthy trans fats, ensuring that you can enjoy their delicious flavors guilt-free.