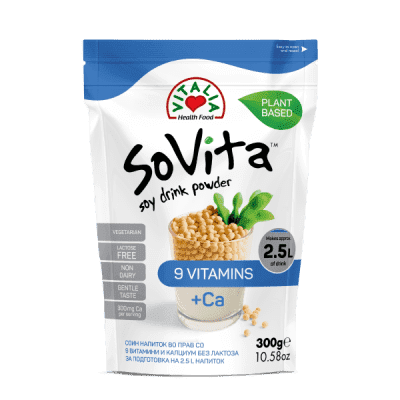 SoVita is 100% natural product of vegetable origin suitable for daily consumption for all ages and any occasion including diets and fasts.
SoVita soy milk contains no lactose, cholesterol, gluten or saturated fats. It is rich in natural plant estrogens which are important for regulating the hormonal status, especially among women
Discover the power of soy with our selection of healthy soy products. Packed with plant-based goodness, these nutritious options provide a delicious and sustainable way to support your well-being. Buy our range of soy products online and experience the benefits of this versatile ingredient.

Explore our diverse range of soy products, including tofu, tempeh, soy milk, and soy-based meat substitutes. Each product is carefully made from non-GMO soybeans and crafted to perfection, providing a delicious and versatile addition to your meals.

Whether you're a vegan, vegetarian, or simply looking to diversify your diet, our soy products offer a world of culinary possibilities. From stir-fries and salads to smoothies and desserts, soy can be easily incorporated into a wide range of dishes, adding both nutritional value and a delightful taste.