OUR TEAM
Our team consists of highly motivated, dedicated and passionate individuals, whose professional experience and knowledge bring in high productivity and efficiency of our well-established vision. Vitalia has more than 200 full-time employees working in eight departments:
-Procurement-
-Production-
-Sales-
-Export
-Research & Development-
-Quality Control-
-Marketing-
-Accounting-
-Maintenance-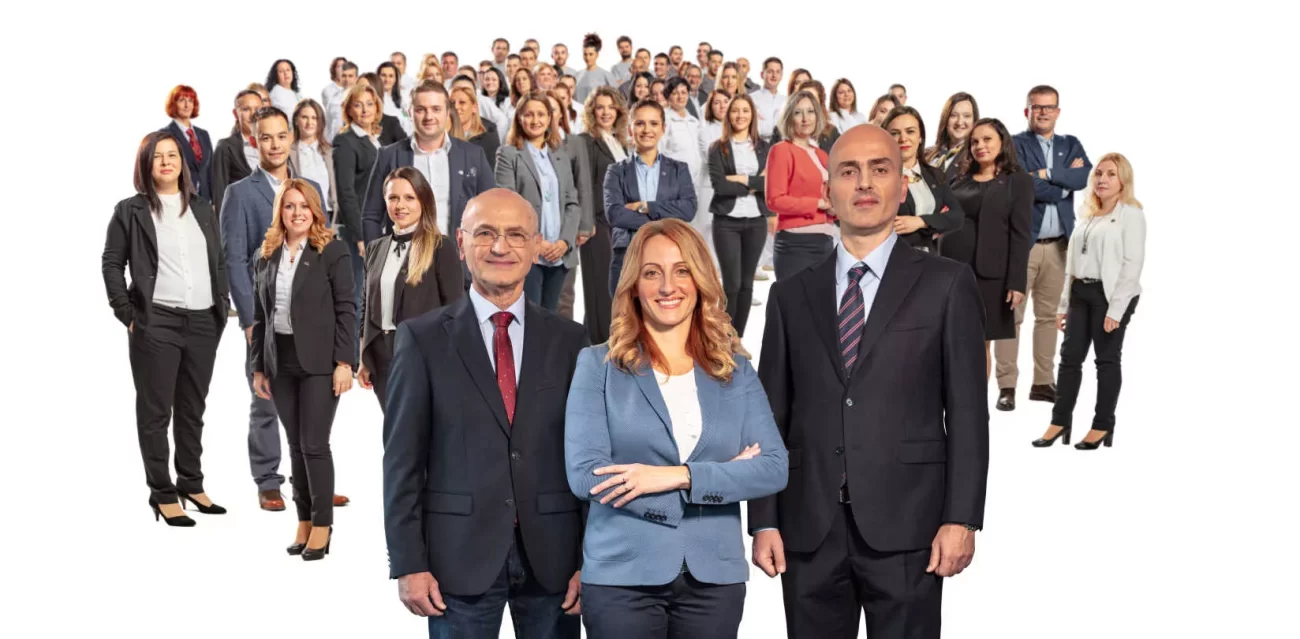 BUILDING A CULTURE OF HEALTHY LIVING
Quality Management & Certification
Vitalia Healthy Food has successfully implemented the following standards:
IFS, BRC, SMETA, UTZ Certified, RSPO KOSHER, HALAL, and ORGANIC BIO Cert, which is a further proof for our commitment to building customer loyalty.

Safety and quality of our products is a non-negotiable priority for us. We provide each of our carefully selected customers with a strict and detailed quality specification for each ingredient including size, texture, color, moisture content, microbiological analysis, packaging type and transport requirements.

Once in our factory, the quality assurance continues by examining samples from each delivery against their specification. Ingredient quality test are carried out throughout the processing and, especially, prior to blending, where the ingredients are thoroughly and completely inspected. Throughout the processing, inspection results are recorded and analyzed in order to ascertain that customer ingredient specifications have been maintained.

We adjust the recipe of our products from time to time; and therefore, we recommend that you always check the ingredient list and nutrition declaration of all our products prior to purchase to determine product information. 

Since we founded Vitalia Healthy Food in 1993, we've built our business focusing on our consumers. We are always honored when the healthy food industry recognizes our commitment to quality service and awards us the most prestigious recognitions.
In 2009 we were awarded the prestigious SUPERBRAND STATUS. This award recognizes the strengths of the VITALIA brand in the industry we cover and reflects the quality associated with our products. This award also refers to market dominance, longevity, goodwill, customer loyalty and market acceptance.

In 2013, Vitalia received the prestigious award "13th November" from the city of Skopje. The award was presented for the project "An A+ for Health Food"- a project aimed at educating the youth about healthy food and leading a healthy lifestyle for the generations to come. This award helped establish Vitalia as a socially responsible company with a clear strategy for caring and investing in the community.

In the survey "Best Buy Award" for 2014/2015 year, conducted by the Swiss organization ICERTIAS, Vitalia brand has been rated with the highest grade by the consumers. Macedonian consumers chose Vitalia as a brand that provides the best price-quality ratio in the "Breakfast cereals" category.

Two times ( 2017 and 2019), Vitalia was selected by the renowned Swiss company ICERTIAS for a company that offers absolutely best quality on the Macedonian market and is the receiver of the prestigious QUDAL – QUALITY MANAGEMENT MEDEAL.