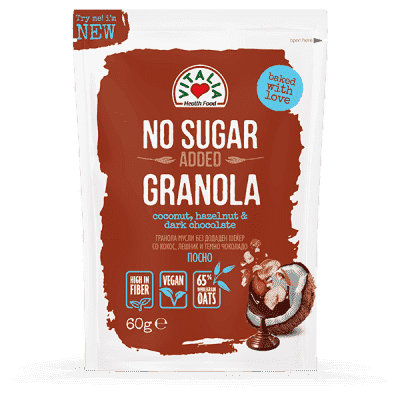 We have dedicated our time and love into making this perfectly crunchy and baked granola, while excluding all added sugars so that you and your loved ones can have a complete "guilt free" experience.
Kickstart your mornings with our range of healthy cereals and muesli. Packed with wholesome ingredients, these nutritious breakfast options offer a delicious and nourishing way to fuel your day. Buy our selection of healthy cereals and muesli online and embrace a balanced start to your morning routine.
At Vitalia Healthy Food, we understand the importance of a nutritious breakfast in setting the tone for the day ahead. That's why we carefully curate a collection of cereals and muesli made from high-quality, natural ingredients, ensuring you get the best start to your day.
Explore our range of healthy cereals, including whole grain flakes, crunchy clusters, and fiber-rich bran options. Each cereal is thoughtfully crafted to provide a balance of taste and nutrition, offering a variety of flavors and textures to suit every preference.