Whether it is inspired by a desire for change, health reasons, or the drive for sustainability and environmental protection, more and more people are looking for a way to replace meat with a healthier, lean alternative. And while mushrooms, eggplant, and soybeans can be used as meat substitutes in certain recipes – they cannot replace the flavor, texture, or supplement the nutritional properties of meat.
During the Easter Lent, now is an ideal time for even non-vegan/lean dieters to give lean, meat-alternative solutions a chance.
LEAN VEGAN MIXTURES by Vitalia are the newest thing on the market, which will help you to replace meat in your diet in a healthy way and ensure the intake of a sufficient amount of protein. These mixtures are based on pea and vegetable protein, do not contain gluten and soy, and are enriched with vitamin B12. At the same time, their unique formulation contains the highest percentage of complete proteins compared to similar products and meat alternatives.
They come in 180g packages, which are enough for four servings; they make 400g of a delicious mixture that you can use in any way you like.
Vitalia's LEAN VEGAN MIXES are available in three varieties: chicken flavor, beef flavor and vegetable and seed mix. In this case, we chose the beef flavored mix to prepare a delicious, healthy and lean vegan burger.
The method of preparation is very simple, because when you buy a bag of mixture from Vitalia – half of your work is already done. Simply pour the contents of the sachet into a deep bowl and add 300 ml of water and oil as desired. Mix well with your hand or a spoon and let it sit for 10 minutes. And then, shape it into steaks, balls, kebabs, or to make this burger – into a juicy burger. And so easy, so fast – you have a home-made, tasty, but also lean burger, which you can eat without a guilty conscience!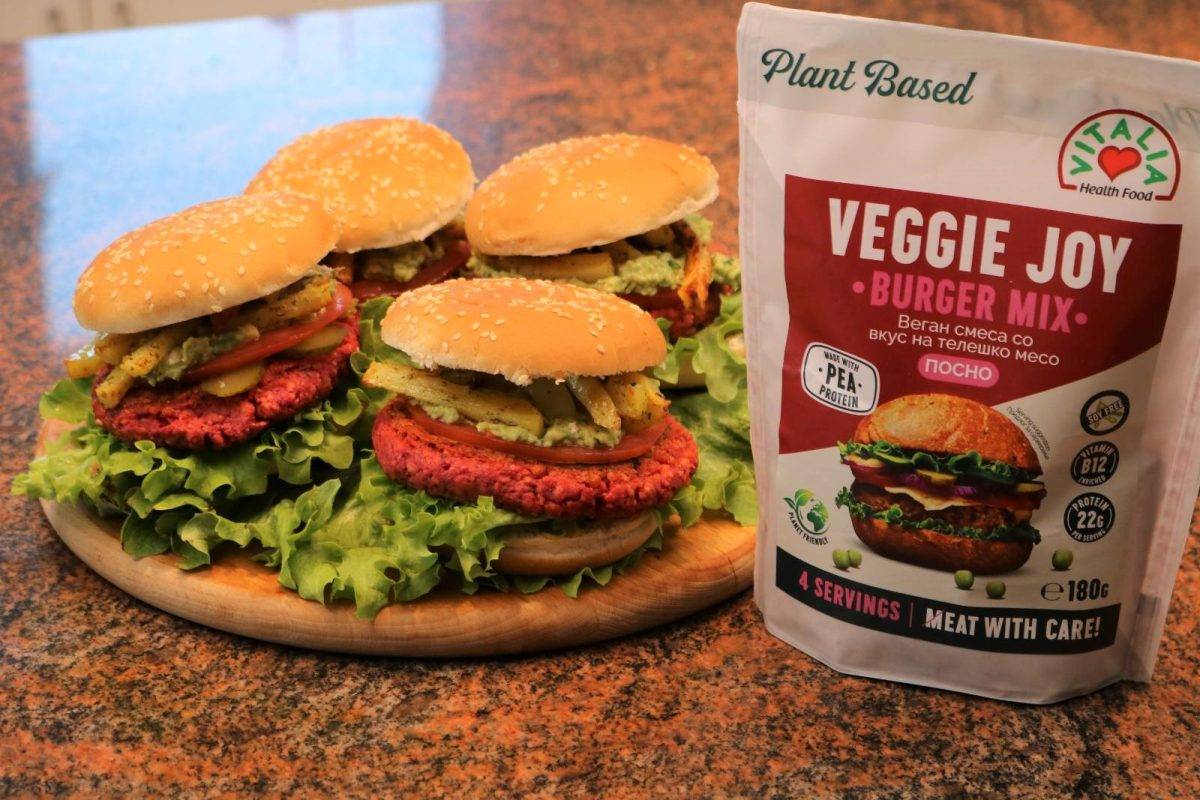 It is estimated that about 30% of the total food intake globally is based on meat products (chicken, beef, pork), and in the last three years, meat alternatives have occupied a larger part of the family table. This change caused an enrichment of the offer on the market, where more different types of meat alternatives appeared, adapted to the daily diet of the modern consumer.
Vitalia's new lean vegan mixes are one of them. They contain a high percentage of protein and vegetable fiber and a low amount of saturated fat, providing numerous health benefits. With them, you know that compromise is not necessary – they offer you a complete meal when it comes to taste, but also when it comes to functionality and the quality of the ingredients.